Shoulder-to-Shoulder Sponsorship
The Shoulder-to-Shoulder (S2S) Ministry Center is currently the home for 16 young Thai kids. That are all Hill Tribe kids representing most of the 6 primary tribes living in northern Thailand. Normally, people in the USA, Australia, and some other countries sponsor these kids. They send money to Acorn2Oaks, a USA non-profit organization, who then sends 100% of those funds to Thailand.
Continuing Education Youth Support (CEYS) is the part of S2S that receives this money and then distributes it. The sponsorship money covers the following items,

The cost of room & board and food while living in the Ministry Center. This includes all utilities, internet access, plus computers & printers for schoolwork.
All school-related expenses like tuition, books, activity fees, and uniforms.
A monthly stipend to cover meals at school and transportation to and from school.
The annual cost of sponsorship is $1,000 for High School students and $1,800 for University students. People can sponsor a student for 100% or 50% of the sponsorship costs. Sponsorship can be paid annually, semi-annually, quarterly, or monthly! Sponsorship payments can be mailed directly to our ministry post office box or through PayPal. Automated monthly payments can be arranged through your local bank (on-line banking) or through PayPal. Please contact us about kids needing sponsorship! Then you can use the donate button below to begin a monthly donation via PayPal.
Shoulder-to-Shoulder General Support...
Sponsorship described above covers about 80% of the costs for each student.  However, we don't want to make the sponsorship costs overly expensive.  Therefore, we have a number of people who donate funds in general while not sponsoring a specific student.  These donations can be one-time or monthly!  To donate like this, please make your donation "S2S General".
Shoulder-to-Shoulder HIV Ministry...
Every month staff and students from S2S visit families infected with HIV.  These people are HIV positive and are in good health.  Most of them were seriously ill when we first made contact and in some cases, they were near death.  None of them were able to work.
Each month we bring them food to supplement their diet.  Additionally, we bring them spiritual encouragement as we share the Gospel message with them.  Most of these families are Buddhist believers.  Only a few are believers in Jesus.  Often we sing worship songs with them while we are visiting.  We always ask them how we can pray for them and invite them to join in with us during this prayer time.
We currently have 7 families that we visit each month.  Our monthly budget for this is $600.  If you would like to support our HIV families please mark your donation "HIV Support".
Shoulder-to-Shoulder Building Fund...
The S2S Ministry Center and the boy's house are both completed.  Over the past 18 months, we were able to build a playground area next to the Ministry Center and a Hydroponic garden.  We are always doing our best to maintain our buildings and site to the best of our abilities.  Thus we appreciate donations to our building fund to help with these projects and maintenance of our property.
Dream with us!  One day in the future we would like to build a motel-like structure.  This would be a place we would house teams when they come to visit and help with things.  At the moment this is just an idea!  It might have 6-8 rooms each with a bathroom.  The rooms would be large enough for 2 people.  Then have a larger meeting room with a kitchenette where the team could eat their meals on-site.
If you would like to donate to our building fund, please mark your donations "S2S-Building".
Hilltop English School...
One of our dear friends here in Chiang Rai is a young woman named Palita Mongkhonkunphongsai.  She was one of the first students to come through S2S.  She studied at Mae Fa Luang University receiving a degree in English!  Following her graduation, she became a part of YWAM doing her discipleship training and School of Biblical Studies (SBS) in the USA.  Thus, her English is great!  She speaks English with an American accent!
Palita has been very involved at S2S over the years.  She has helped in virtually all areas of the ministry including being the ministry director.  She still helps us by being a member of our ministry board.  However, Palita has a higher calling and many years ago she started Hilltop English School.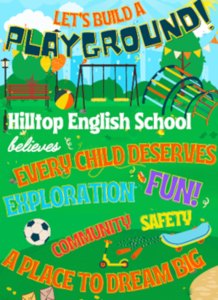 Hilltop English School serves the local community.  Many of these local people are very poor!  Palita's heart is to help these people, especially their children!  She believes that if they know English, they will have more opportunities in life!  We agree with her and want to support her as she reaches out to these young people!
Today, Hilltop English School is in the process of building a new school building to have their own permanent location.  They have raised money for this new building!  However, they have an additional need.  They want to build a playground area next to the new school.  Can you please help them?
Acorn2Oaks is proud to assist Palita and Hilltop English School by receiving donated funds for them in the USA.  If you would like to donate to help Palita and Hilltop English School, please mark your donations "Hilltop".  The next section "How YOU can help" has instructions for mailing donations to us or steps to donate online.
Any donation are helpful! Thank you for reading this page and considering donating. Donations can be made in either of 2 ways…
Sent directly to Acorn2Oals. Please include a sticky note with your check to identify the purpose of your donation. Then mail it to: Acorn2Oaks, Inc., PO Box 54, Zelienople, PA 16063-0054
Click on the Donate button below to donate through PayPal. Enter a donation amount and click on Donate with PayPal or with a Debit or Credit Card. Click on "Purpose of this donation" to enter how you would like us to use these funds. This is very important!!
Be assured that your donations will go to the fund you choose. Your donations will help to continue to provide a permanent location for S2S students and to maintain and enhance the property!
To make a one-time donations through PayPal, click on the button below. It will take your directly to PayPal for processing. Be sure to enter the amount of your donation as well as the fund designation. You can make it a monthly donation by clicking the check-box for "Make this a monthly donation".