We provide scholarships for our students to go to school and a place to live.  Students come from nearby mountain villages focusing first on orphans, second on families with only one parent, and then all others.  All these students come from families that are desperately poor!  Most of them would not be able to continue their education without help!  We believe education is the key to breaking the cycle of poverty in their families.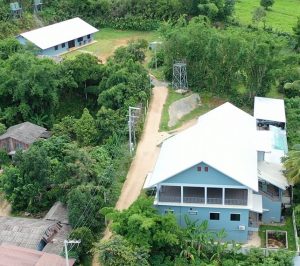 The S2S Campus consists of 2 pieces of land connected at the corner and 2 houses. The house in the front is called Ruth House which is the home for our girls and the house in the back is called Joseph House which is the home for our boys.
Ruth House has 2 bedrooms for our girls and is also our Ministry Center. It has a large meeting room where we hold most of our ministry activities plus a kitchen and dining area where our kids prepare and eat their morning and evening meals. The 2nd floor has a large open area suitable for many activities; we recently held a wedding ceremony in this space. Bill & Susie are house parents living in this house.
Joseph House at the upper left corner of this picture has 2 bedrooms for our boys plus living quarters for Matthew & Opal who are house parents for our boys.
Go to our Ministry Center page to see more detailed and up-to-date information about our campus and our kids.
We provide supplemental food and encouragement for our HIV families.  Most of them were too sick to work when we first met them.  Now because of better nutrition, HIV medication, and spiritual growth, most of them are able to work and be somewhat self-supporting.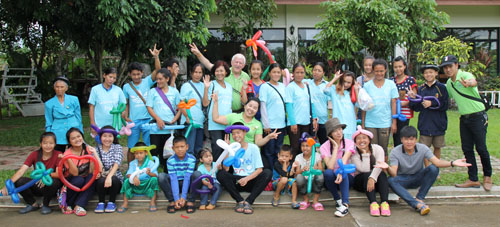 In the picture above we went out and picked up all of the mothers and children from the HIV families. We took them to a nice restaurant to celebrate Mother's Day with them. After the meal, we sang songs, played games, made balloons for them, and gave them each a special Mother's Day gift before returning them to their homes. Our goal is to help them and encourage them in their lives.
Go to our HIV Ministry page to see more up-to-date information about our HIV Ministry.